Regenerate Soil Microbes Fast with Terreplenish®
Independent research demonstrates 2 gallons of our proprietary blend of nitrogen-fixing, free-living microbes has the remarkable capability of converting 45-60 pounds of plant-available nitrogen per acre directly from the atmosphere. Furthermore, the research unveiled additional benefits of Terreplenish®, including a reduction of 15-20 pounds of phosphorus per acre and disease control. Registered & Certified for Organic – California Department of Agriculture (CFDA), OMRI Listed for:
Corn Fruits & Vegetables Cannabis & Hemp Turf & Landscape
Terreplenish® Food & Whole Farming System
Terreplenish® contains nitrogen-fixing & Phosphate solubilizing bacteria (PSB), both beneficial bacteria capable of solubilizing inorganic phosphorus from the insoluble compounds and absorbing atmospheric nitrogen.
Nitrogen-fixing begins immediately once applied and builds up over time as the microbes propagate. The nitrogen stays with the plant while releasing legacy phosphates, combating the calamities that traditional fertilizers create when heavy rains and melting snow wash massive amounts of nutrients-particularly nitrogen and phosphorus-from lawns, sewage treatment plants, farmland, and other sources along the Mississippi River into the Gulf of Mexico causing dead zones; regions of the ocean where there is so little oxygen that almost no life exists beneath the surface waters.
Terreplenish® is not a bio-fungicide/pesticide. Our proprietary microbe formula does not contain EPA Bio-pesticide Active Ingredients. 
Minimize your risks (health, $$$ disruption) by making Terreplenish® a cornerstone of your (IPM) Integrated Pest Management practice.
Terreplenish® works in three different ways to fight disease-causing pathogens: Disrupts the cell membrane growth,  Inhibits the attachment of the pathogen to the leaf and Stops harmful spores from germinating.
Regular Foliar-applied Terreplenish® applications have been shown to prevent soil and airborne pathogens in susceptible plant varieties with pathogens like:
Powdery mildew
Fusarium wilt
Downy mold
Dollar spot
Botrytis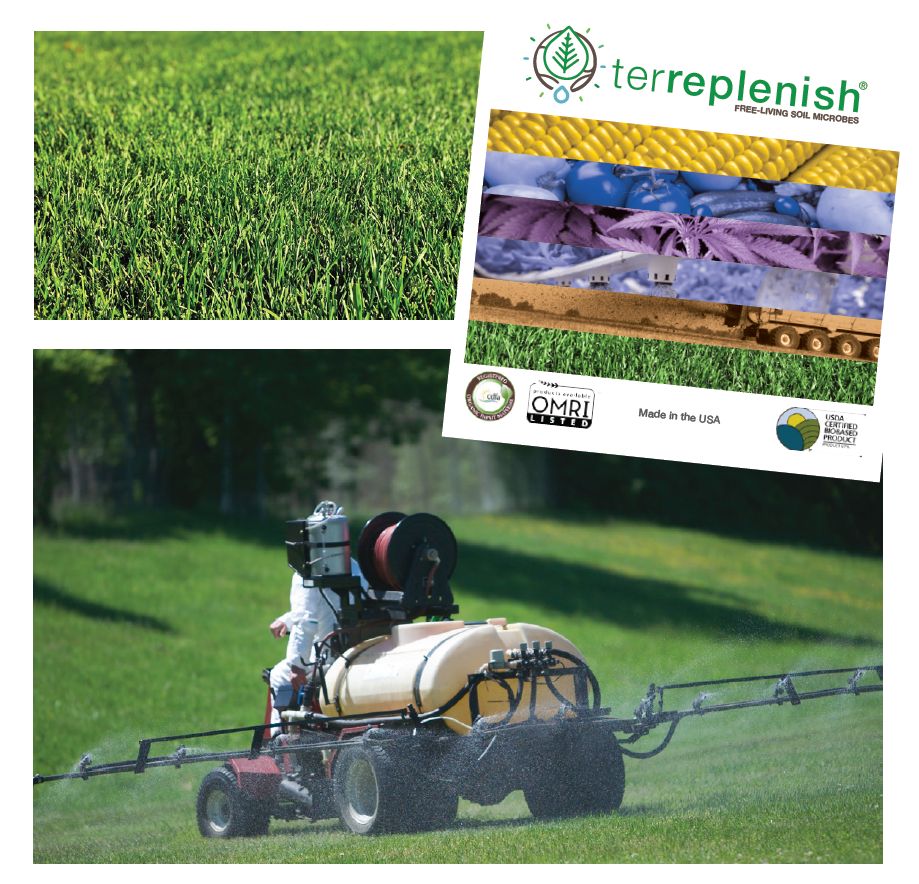 Learn More About Terreplenish®
Curious to learn more? Our Complete Sales Kit includes all of our specs and certifications to provide you the full picture of what we can do for you.
Download Our Sales Kit