Lifeless unproductive

soil

?
Balance your soil with the #1 soil-replenishing microbial solution on the market!
Since 2012, Terreplenish® has been a trailblazer in regenerative agriculture, creating a sustainable method that converts green waste into a nitrogen-fixing free-living consortium of microbes that re-establish the beneficial micro-flora in soil. OMRI-listed Terreplenish® ensures farmers will produce larger yields faster and control diseases naturally, without harmful chemicals.
The Impact of Terreplenish®
of Nitrogen Credit per Acre
of P205 (Legacy Phosphorous) Per Acre
Different Crops by 3rd Party Researchers
of the Water Retention in Soil
Reduction in Irrigation Needs
Terreplenish® promotes healthy soil in any gardens and farms across the country. Growers big and small are seeing the benefits of Terreplenish®.
Bring vibrancy to your small garden and protect your plants from disease with our 5L (1.32 gallon) jug.
Control disease and naturally bring your community garden or small farm to life with our 10L (2.65 gallon) jug.
Terreplenish ® reliably feeds crops, increases yield, stops common plant diseases, and revives the health of your soil.
Grow Better with Terreplenish®
Proven nitrogen-fixing results from our blend of proprietary
free-living nitrogen-fixing microbes. 
100% all natural and OMRI listed for organic use on: 
We are committed to providing the highest quality, environmentally sound products to offer a viable contribution to the emerging global market for safe, sustainable, regenerative solutions in agriculture.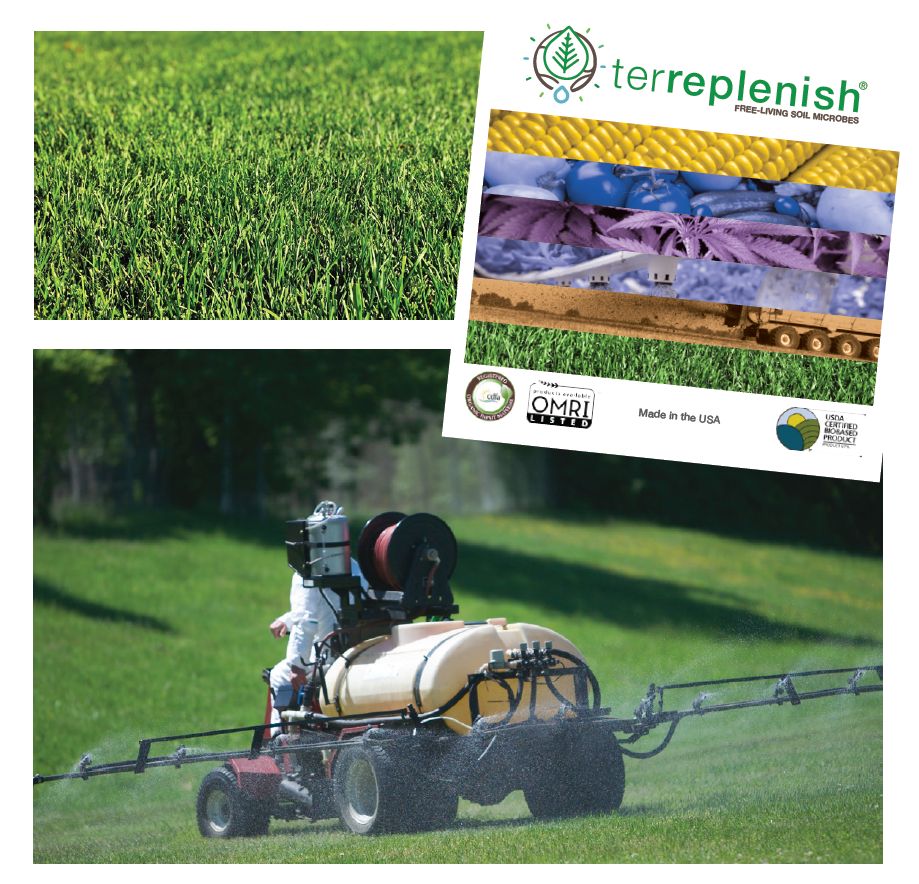 What growers are saying about

Terreplenish®
"We have harvested this first field of African Cucumbers. The product weighs more, is somewhat larger, and tastes better. I am happy with this! We are making plans to foliar feed more fields next year."
— KATY WARREN,  GOLD GREEN RANCH, DURHAM, CA.
"We applied a foliar treatment to our broccoli crop once a week for six weeks at the 50-1 dilution using eight gallons of Terreplenish® per acre.  We harvested the initial heads, and the treated area heads averaged 3.1 lbs. The untreated area heads averaged 0.53 lbs. Visually, there is a remarkable difference in the plant size and conformation. The treated area is equivalent to 4.65 tons per acre, definitely on the high side for organic production on a dry year, or any year."
— RON DOETCH, SOLUTIONS IN THE LAND, LLC.
"After applying Terreplenish® to our medical cannabis grow, we saw substantial improvement in our plants. Within days of application, our plants pushed through their problems and began to grow as a happy, healthy plant should. Harvest weights and quality were remarkably superior to last season. By applying a 10:1 foliar application, we could knock out powdery mildew that would have otherwise ruined our crop." Feed Earth Now, LLC
— JJ CHICO, CALIFORNIA